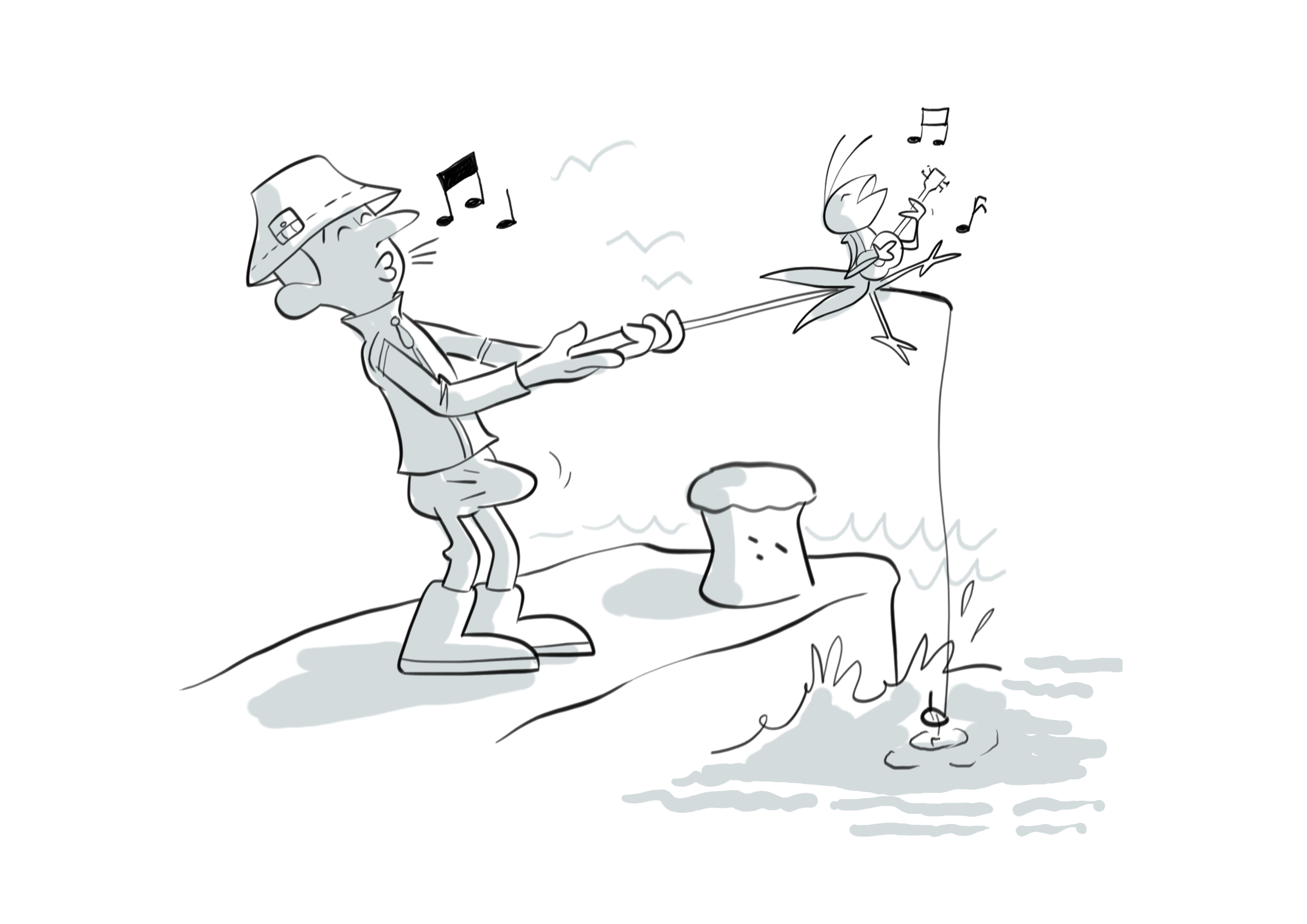 «Avei a çigaa in sciâ canna»

[ZE] Unna çigaa pösâ in sce unna canna da pesca a rappresenta l'interpretaçion «a-a lettia» de st'esprescion idiomatica, ch'a l'à o scignificato de 'ëse allegro', anche da-o ponto de vista da sessualitæ. A forma de braghe a mette in ciæo l'origine da combinaçion.

[IT] Questo disegno rappresenta con una cicala sulla canna (da pesca) i singoli significati letterali dei componenti della combinazione genovese, che però nel suo significato globale (e non composizionale) indica "essere di buon umore" (in tutti i sensi… si veda la forma dei pantaloni del pescatore).

[EN] In this drawing, the cidada ("çigaa") sitting on the end of a fishing rod (a possible interpretation of the word "canna") represents the literal interpretation of this idiom, meaning 'to be happy', 'to be joyful' as well as 'to be turned on' (in a sexual context). The shape of the depicted fisher's trousers openly clarifies the origin of the expression (since "canna" actually refers to the male member).

[DE] In dieser Zeichnung spiegelt die Zikade ("çigaa"), die am Ende einer Angel (mögl. Interpretation von "canna") sitzt, die wörtliche Interpretation dieses Phrasems wieder, das im übertragenen Sinn 'glücklich sein', 'zufrieden sein' sowie auch 'erregt sein' (im sexuellen Kontext) bedeuten kann. Die Form der Hose des Fischers unterstreicht die Herkunft dieses Ausdrucks (da "canna" eigentlich das männliche Glied bezeichnet).