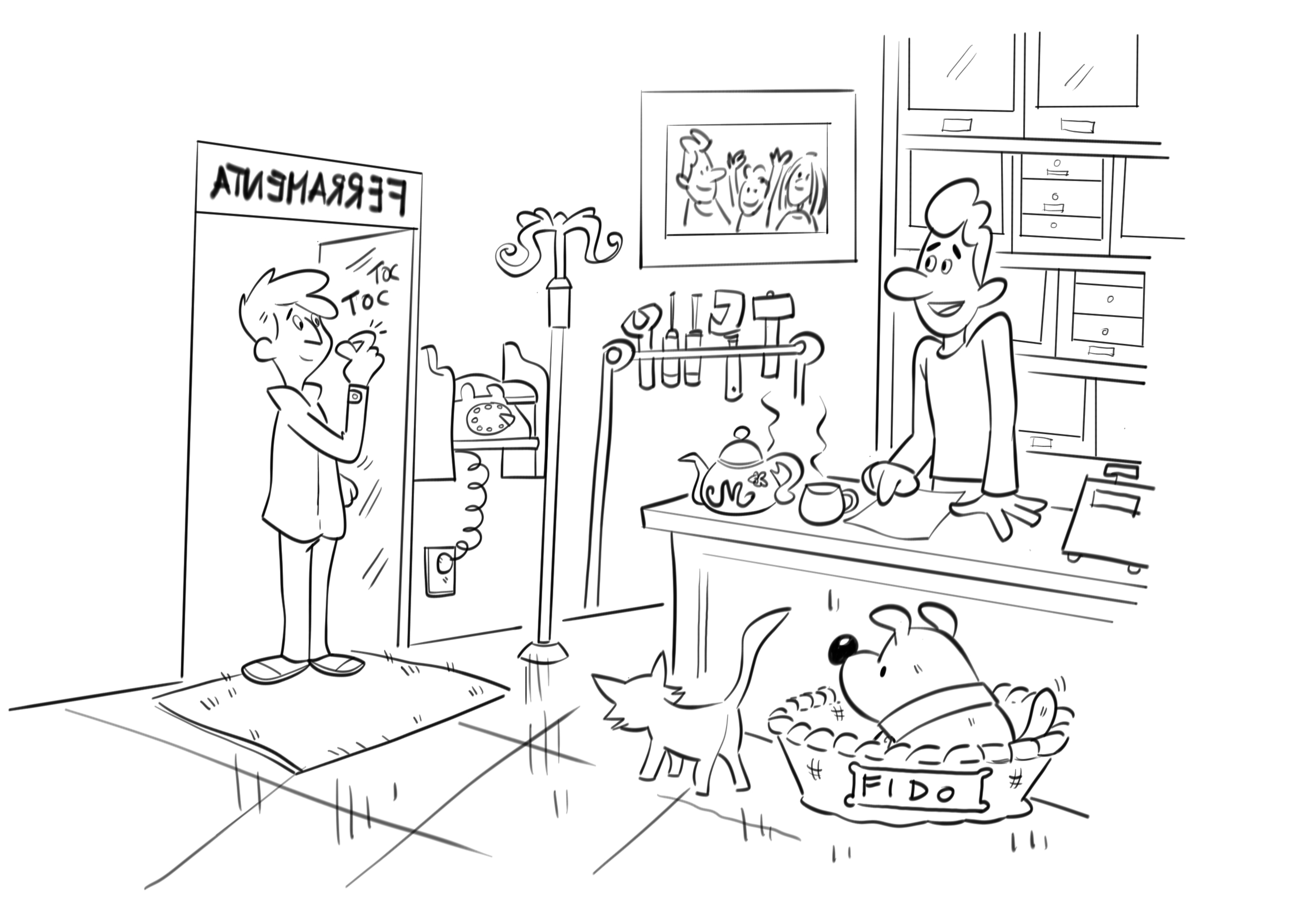 «Ëse de casa e de buttega inte quarche pòsto».

[ZE] Inta mentalitæ zeneise, chi gh'à ben ben da familiaritæ con un çerto pòsto ch'o frequenta de spesso o l'é descrito comme se lì o gh'avesse casa e buttega, comme s'o ve passesse tanto tempo comme quello dedicou à l'attivitæ domestega e de travaggio. O disegno o zeuga pròpio in sce sto fæto, mostrando unna persoña ch'a deuvia un mæximo pòsto tanto comme spaçio domestego (se ghe vedde da l'appendin, da-e bestie de casa e da un telefono co-a cornetta) comme pòsto da travaggio (ciù into dettaggio, unna bittega da ferrâ).

[IT] Chi ha molta familiarità con un luogo, perché da questi spesso frequentato, in genovese è descritto come avente in quel preciso posto 'casa' e 'bottega', 'negozio', come se lì vi trascorresse tanto tempo quanto quello dedicato all'attività domestica e a quella lavorativa. L'immagine gioca proprio su questo aspetto, mostrando una persona che fa uso di uno stesso luogo sia come spazio casalingo (lo si nota dall'attaccapanni, dagli animali domestici e da un telefono a cornetta) sia come luogo di lavoro (nella fattispecie, proprio una bottega da ferramenta).

[EN] According to this Genoese phraseme, those who spend most of their time in a certain place are described as having their 'home' ("casa") and 'workshop' or 'shop' ("buttega") in that place, as though they spent as much time there as they dedicate to domestic activities and work. The image plays on this aspect, by showing a person who is using the same place both as domestic space (evident from the coat rack, the pets and the telephone) and workplace (in this case, an ironmonger's shop).

[DE] Laut einem genuesischen Idiom haben jene, die ihre meiste Zeit an einem bestimmte Ort verbringen, ihr ' Zuhause' ("casa") und ihre 'Werkstatt', 'Geschäft' ("buttega") an ebendiesem Ort und verbringen genauso viel Zeit dort, wie sie ihren häuslichen Aktivitäten oder ihrer Arbeit widmen. Die Darstellung spielt auf diesen Aspekt an, indem eine Person gezeigt wird, die sich an einem Ort genauso zuhause fühlt (erkennbar an dem Garderobenständer, den Haustieren und dem Telefon) wie in der Arbeit (in diesem Fall, in einer Eisenwarenhandlung).