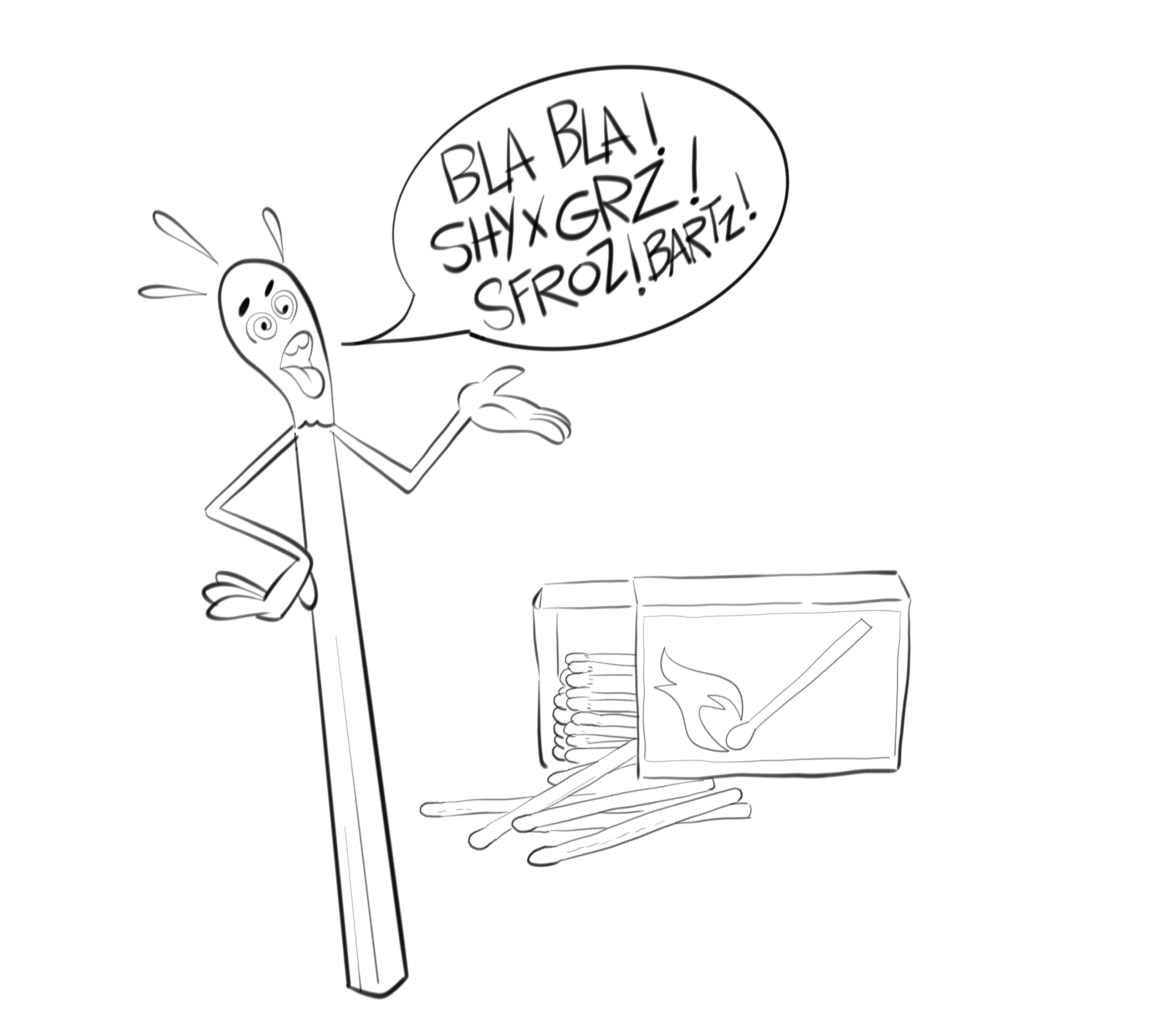 «Raxonâ comme i bricchetti».

[ZE] L'esprescion idiomatica a l'é rappresentâ in sciâ base de unn'interpretaçion a-a lettia di elementi che â compoñan: o disegno o mette in figua un bricchetto che, co-i euggi che ghe sciòrtan da-e casce e a lengua feua da-a bocca, o l'arrecampa de poule che no s'arriësce à capî. O fraseologismo o fa referensa a-e persoñe che fan di raxonamenti che, a-o manco in scê primme, pâ che no gh'aggian de senso.

[IT] L'espressione idiomatica, dal significato di 'sragionare', è rappresentata attraverso un'interpretazione letterale delle proprie componenti: il disegno a esso relativo raffigura infatti un fiammifero (bricchetto) che, con espressione convulsa, farfuglia parole senza senso. Il fraseologismo si riferisce infatti a chi compie ragionamenti di primo acchito incomprensibili a chi li ascolta.

[EN] This idiomatic expression, which means 'to talk nonsense', is represented through a literal interpretation of its components: the drawing portrays a personified match ("bricchetto"), which is stammering incomprehensible words with a hectic expression on its face. The phraseme refers specifically to those who talk nosense and whose words are incomprehensible at first.

[DE] Diese idiomatisch Redewendung, mit der Bedeutung 'Blödsinn reden', wird durch eine wörtliche Interpretation ihrer Bestandteile dargestellt: die Zeuchnung zeicht eine personifiziertes Streichholz ("brichetto"), das unverständliche Wörter murmelt und einen hektischen Gesichtsausdruck hat. Dieses Phrasem bezieht sich auf Personen, die so konfus reden, sodass man sie zuerst gar nicht versteht.