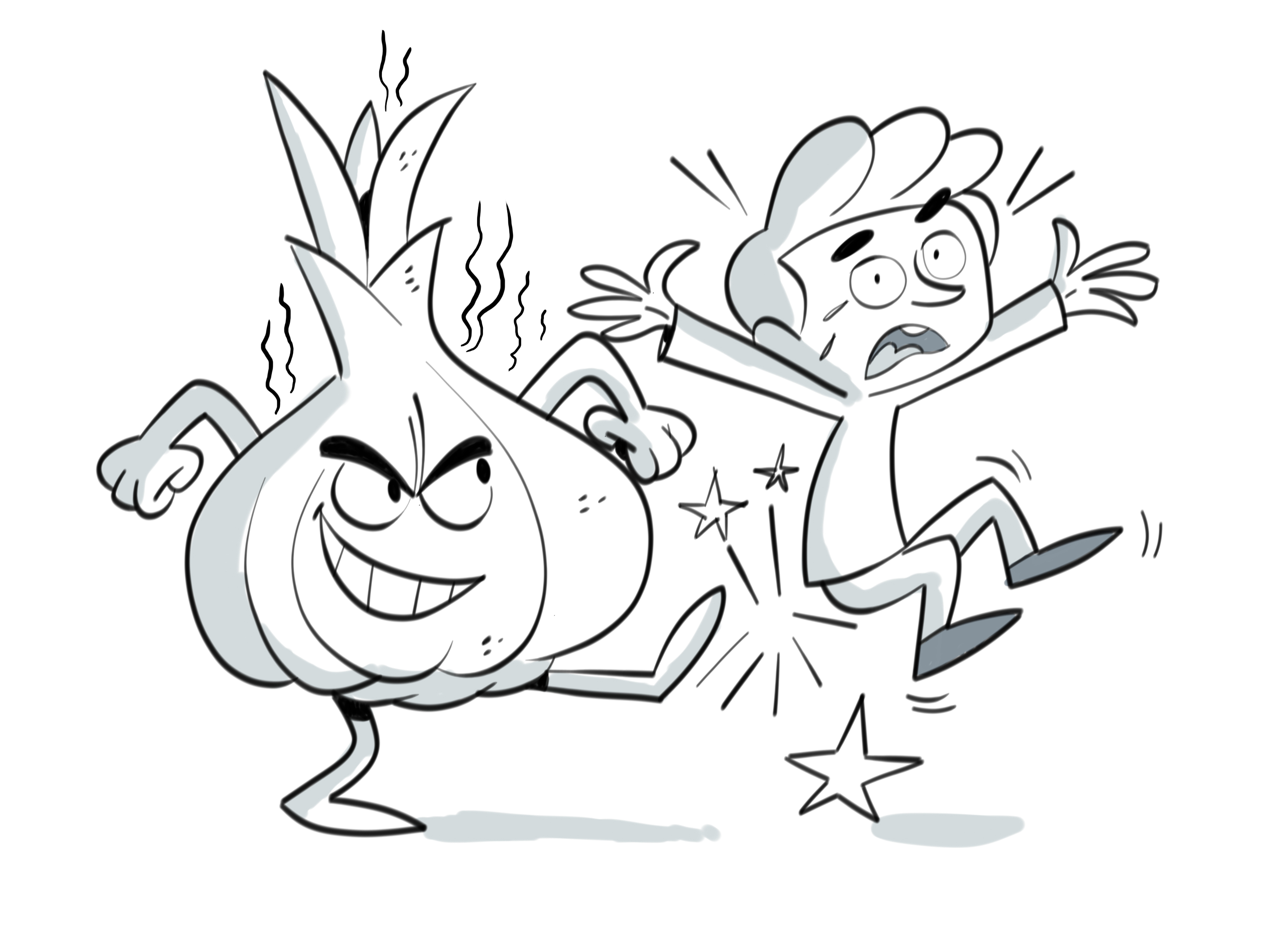 «Ëse grammo comme l'aggio»; «ëse feo comme l'aggio».

[ZE] Un di scignificati de ste combinaçioin comparative, quello de 'avei da cattivëia', o l'é indicou da unna testa d'aggio personificâ ch'a se compòrta à sto mòddo co-i atri. In de ciù se fa vedde ch'o manda do grammo ödô, e donca ch'o l'é «grammo» anche inte di sensci despægi da quello figuou.

[IT] Uno dei significati di queste combinazioni comparative, quello di 'essere di carattere crudele', è indicato da una testa d'aglio personificata che si comporta con cattiveria nei confronti degli altri. Inoltre viene raffigurato come maleodorante, e quindi come «cattivo» anche in sensi diversi da quello traslato.

[EN] One of the meanings of these comparative expressions, 'to have a mean nature', is portrayed by a personified garlic bulb that behaves with cruelty towards people. Moreover, it is depicted as evil-smelling, thus as 'bad' in other meanings apart from the figured one.

[DE] Eine der Bedeutungen dieser komparativen Phraseme, 'grausam sein [in Bezug auf den Charakter eines Menschen]', wird anhand einer personifizierten Knoblauchzwiebel dargestellt, die sich gegenüber anderen boshaft verhält. Außerdem wird sie im Bild als übelriechend dargestellt, was verdeutlicht, dass die Mitmenschen aus verschiedenen Gründen unter dem boshaften Charakter der betreffenden Person 'leiden' müssen.