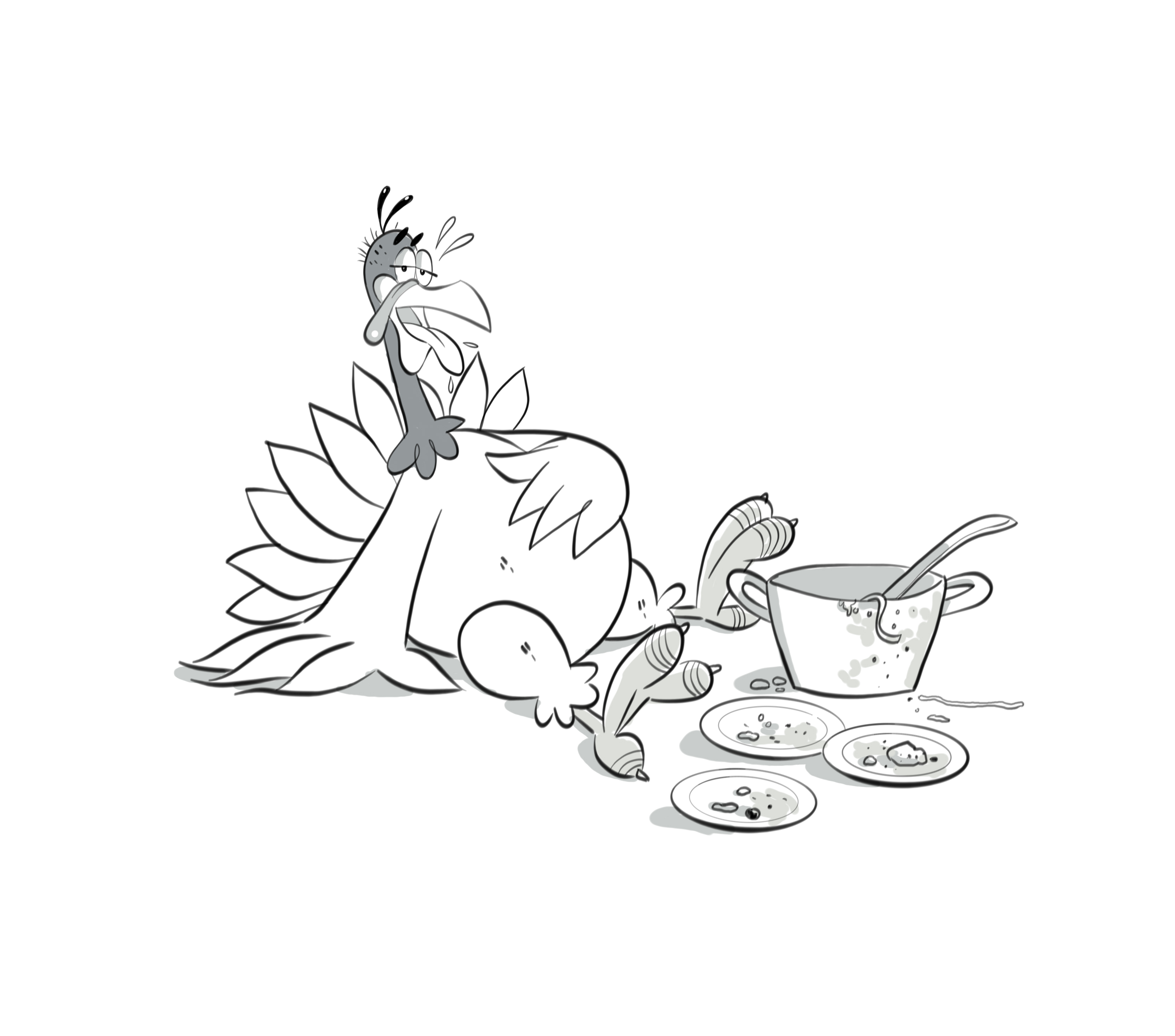 «Ëse pin comme un bibin»

[ZE] St'esprescion comparativa a l'é rappresentâ segondo unn'interpretaçion realizzâ do tutto a-a lettia: into disegno se vedde un bibin a-a fin de un bello pasto che o se passa unna äa in sciâ pansa piña.

[IT] Questo fraseologismo comparativo, dal significato di 'avere lo stomaco pieno', 'avere mangiato a sazietà', è raffigurata tramite un'interpretazione del tutto letterale: nel disegno compare infatti un tacchino al termine di un lauto pasto che si massaggia il ventre gonfio. Il fraseologismo gioca sia sul duplice significato di "pin", che può significare tanto 'pieno' quanto 'ripieno', sia sul concetto del tacchino ripieno come piatto tipico di alcune festività.

[EN] This comparative phraseme, that means 'having eaten one's fill' (lit. "to be full like a turkey'), is depicted on the basis of a strictly literal interpretation of its components: the drawing portrays a turkey that, after a lavish meal, strokes its full stomach. The phraseme plays with the ambiguity of the adjective 'pin', which means both 'full' and 'stuffed', as well as on the idea of a stuffed turkey as typical dish for festivities.

[DE] Dieses komparative Phrasem, das so viel bedeutet wie 'voll bis zum Rand sein' (wörtl.: "voll wie ein Truthahn sein"), wird auf Basis der wörtlichen Bedeutung seiner Bestandteile dargestellt: Das Bild zeigt einen Truthahn, der sich nach einem üppigen Mahl seinen vollen Bauch reibt. Das Phrasem spielt einerseits mit der Mehrdeutigkeit des Adjektivs "pin", das sowohl 'voll' als auch 'gefüllt' bedeuten kann, sowie andererseits mit der Vorstellung eines gefüllten Truthahns als typische Speise zu verschiedenen festlichen Anlässen.