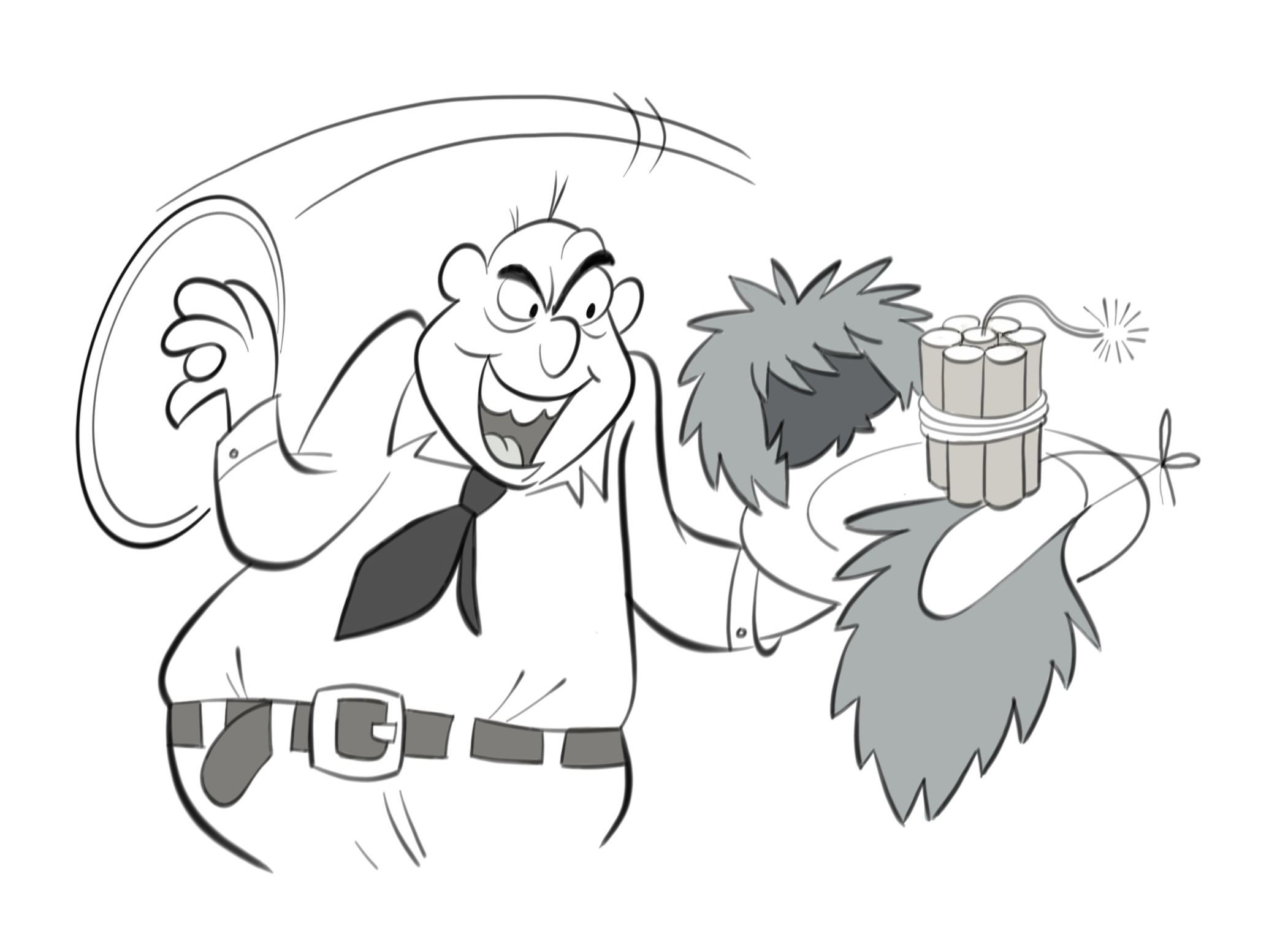 «Servî qcn. de barba e de perrucca».

[ZE] L'esprescion idiomatica a l'é rappresentâ da unna persoña da l'äia maligna ch'o scistemma di candiöti de dinamite into mezo de unna barba e unna perrucca postisse, da mette in sciâ cea de unna tersa persoña: de de chì l'idea de compî unn'açion a-o danno di atri, pe commun comme refæta o comme reaçion a-o comportamento de sti urtimi.

[IT] L'espressione idiomatica, dal significato di 'conciare qcn. per le feste', è rappresentata da una persona che, con fare maligno, sistema dei candelotti di dinamite fra una barba e una parrucca finta, verosimilmente da affibbiare a una terza persona: da qui il concetto di compiere un'azione a danno di terzi, in genere come rivalsa personale o come gesto di reazione al discutibile comportamento altrui.

[EN] The idiomatic expression, that means 'to sort someone out' (that is, 'to take revenge on someone' or 'to behave as badly as someone deserves'), is represented by a wicked person who places some sticks of dynamite between a false beard (barba) and wig (perrucca), presumably intended to be put on the face of a third person: this is the origin of the concept of harming a third party for personal revenge as a reaction to the questionable behaviour of others.

[DE] Diese idiomatische Redewendung, die 'jmd. zusammenhauen' bedeutet, wird von einer bösartigen Person, die Dynamitstangen zwischen einem falschen Bart und einer falschen Perücke platziert, vermutlich um diese einer dritten Person zu geben: daher kommt das Konzept der zum Schaden Dritter ausgeführten Handlung, die als persönliche Rache oder Reaktion auf fragwürdiges Verhalten anderer anzusehen ist.