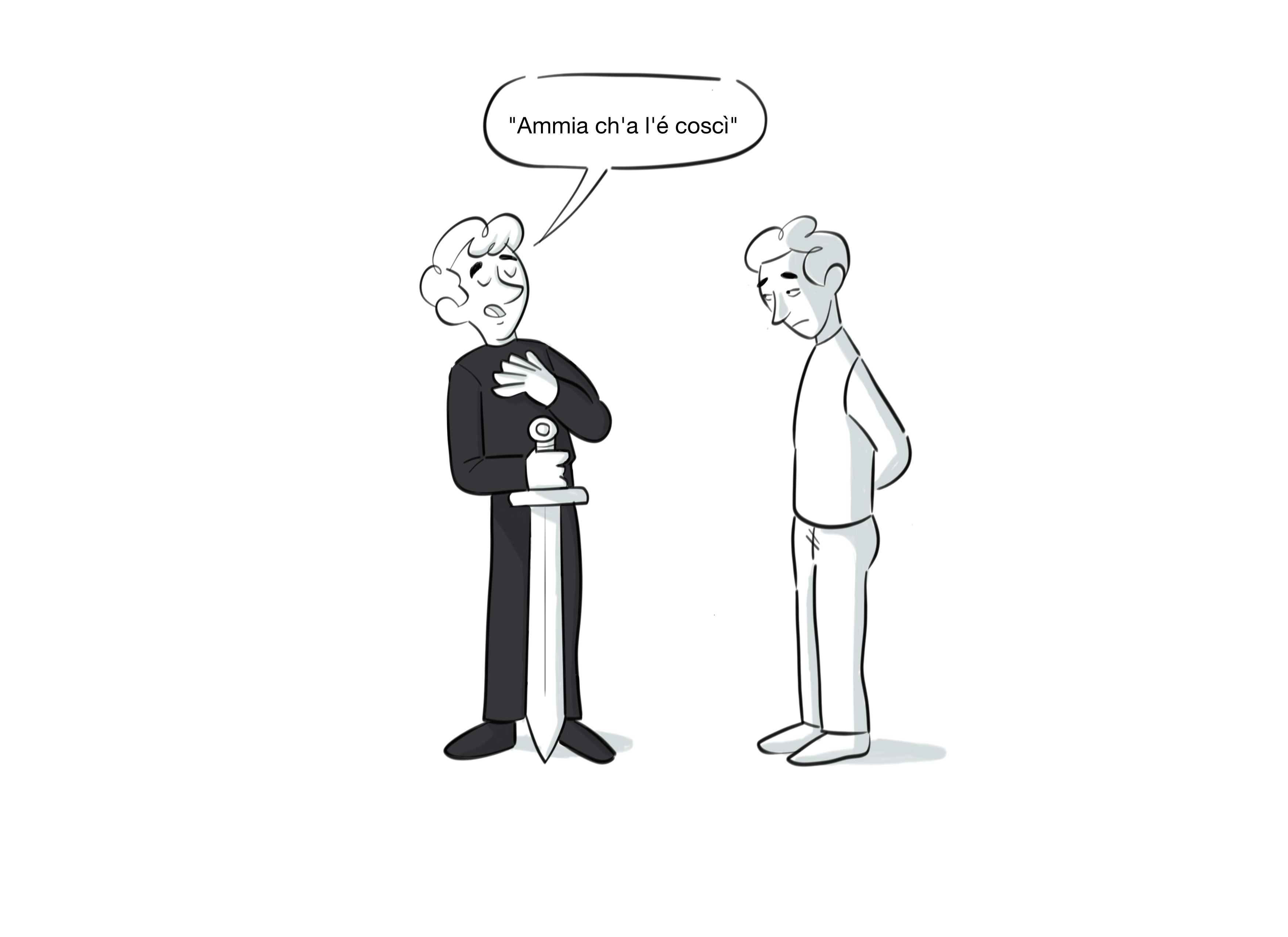 «Vegnî à l'arma gianca».

[ZE] O scignificato de st'esprescion idiomatica, ancheu feua de deuvia, o l'é rappresentou da unna persoña che, con unna spâ pontâ verso a tæra (ò sæ, unna de tante «arme gianche» ch'existe), a parla con franchessa e sinceritæ à unna segonda persoña.

[IT] Il significato di quest'espressione idiomatica, oggi disusata, è rappresentato da una persona che, con una spada puntata a terra (ossia una fra le tante «arme bianche» esistenti), parla con franchezza e sincerità a un secondo individuo.

[EN] The meaning of this idiom (lit. 'to come to a white/blank weapon', 'to speak freely'), which is no longer in use, is portrayed by a person in dark clothing speaking to another honestly and bluntly, while holding a white sword (one of the so called "arme gianche", 'white weapons') that is pointed to the ground.

[DE] Die Konzeptualisierung dieses heute nicht mehr gebräuchlichen Idioms (Bedeutung: 'in aller Offenheit sprechen', wörtl. "zur weißen / blanken Waffe kommen") wird durch einen Mann in dunklem Gewand dargestellt, der mit einem anderen offen und unverblümt spricht und sich dabei auf ein Schwert (somit auf eine der sog. "blanken Waffen" bzw. "Blankwaffen") stützt, das er in Händen hält und welches entsprechend der wörtlichen Bedeutung weiß ist.